Location
Click to Enlarge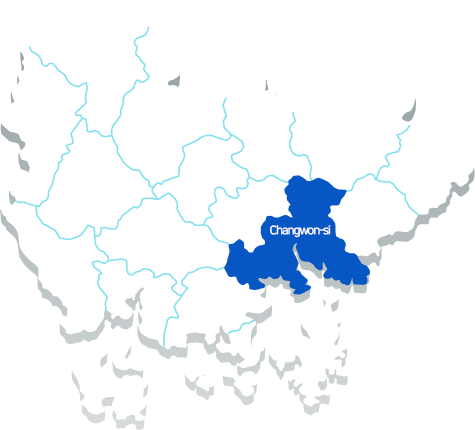 Changwon, which is located on the southern central region of Gyeongsangnam-do in Korea, has been the main hub of the industrial economy in the central area of Gyeongnam based on the mechanical industrial complex of the heavy chemical industrial district connecting Ulsan, Busan, and Sacheon.
The cities that are on the same latitude as Changwon include Busan, Gimhae, Jinju, and Gwangju, while the cities on the same longitude as Changwon consist of Daegu, and Yeongju. In terms of foreign cities, there are Okhotsk in Siberia, Harbin in China, Nagasaki in Japan, and Wyndham in Australia.
Changwon is connected via the Gyeongjeon Line, the Namhae Expressway, and the Jungbu Naeryuk Expressway.
Located at the southeast of Korea along with Busan, Changwon is bordered by Masan Bay and Jinhae Bay to the south, Haman and Miryang to the north, Busan and Gimhae to the east, and Goseong to the west.
位置
看大图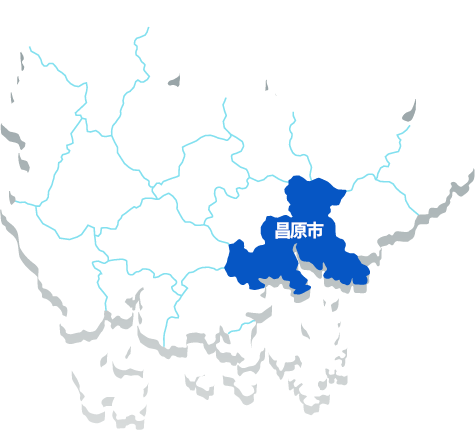 昌原地处韩半岛东南端庆尚南道的中南部,拥有连接蔚山、釜山、泗川等城市的东南临海重化学工业地区内的大规模机械工业园区,起到庆南中部地区产业经济的核心作用。
与昌原市纬度相同的城市包括釜山、金海、晋州、光州等,相同经度上的城市包括大邱、荣州等。国外城市方面,包括西伯利亚的鄂霍次克、中国的哈尔滨、日本的长崎、澳大利亚的温德姆等。
昌原在地理位置上,与庆全线、南海高速公路和中部内陆高速公路连接。
昌原市与釜山广域市同处于韩半岛的东南端,南临马山湾和镇海湾,北邻咸安和密阳,东连釜山和金海,西与固城郡接壤。
位置
画像拡大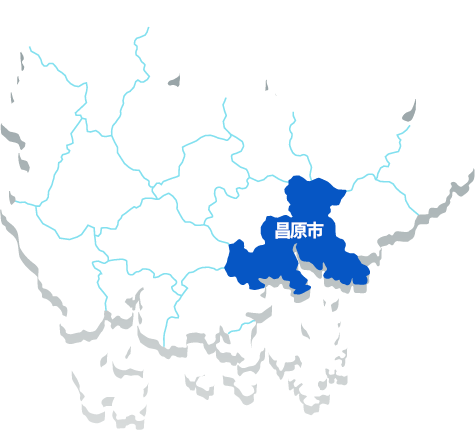 昌原市は、韓半島東南端の慶尚南道中南部に位置しており、蔚山、釜山、泗川などをつなぐ東南臨海重化学工業地区内の大規模機械工業団地を備えており、慶尚南道中部地域の産業経済の中枢的役割を担っています。
昌原市と緯度が同じ都市は釜山、金海、晉州、光州、経度が同じ都市は大邱、栄州などがあり、外国の都市はシベリアのオホーツク、中国のハルビン、日本の長崎、オーストラリアのウィンダムなどがあります。
昌原市は、釜山広域市とともに韓半島東南端に位置しており、南側には馬山湾と鎮海湾、北側には咸安と密陽、東側には釜山と金海、西には固城郡と接しています。